Happy Wednesday everyone! Today I have another color post for all of you. Black and gold! I was originally inspired for this idea when I saw this adorable dress at anthropologie.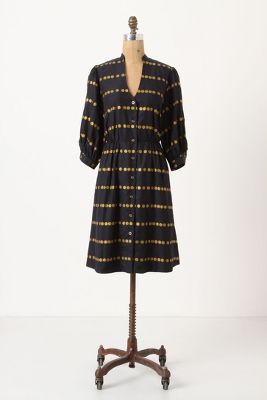 So here we go! This was way more of a challenge than I expected. Most things that come up when you search for black and gold are really gaudy things, or Saints memorabilia. But I think you'll like the collection of things I put together.
So what do you guys think? I think black and gold be done very sophisticatedly and elegantly. I'm actually liking these looks a lot!
I also just wanted to let y'all know about something exciting that is headed your way! Next week, or sometime later this week, I'm going to be featuring my first artist interview! I'm so excited to be sharing this new undertaking with all of you! It's going to be a lot of fun to hear what all the different artists have to say. I'm really looking forward to this. Maybe I'll do artist interview Tuesday, or something? Any ideas? Suggestions? Thoughts? Feedback is always appreciated!
And be sure to like my facebook page! Tell your friends! Okay, I'm done with my self promoting.